What Does WordPress Itself Recommend?
WordPress has a top 3 of best hosting companies on their own website. These are hosts which they trust and believe will offer you the best service out there: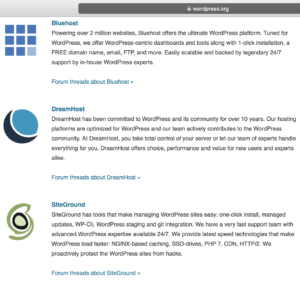 1. Bluehost
Bluehost is the most used WordPress hosting in the world! Powering over 2 million websites using WordPress!
They offer:
#1 recommended web hosting by WordPress.org

A free domain with your hosting

Hosting for under $4 per month
30 day money back guarantee

Sites are faster than 88% of the other websites!

WordPress Auto-install for your site
DreamHost is the number 2 in the list of best WordPress hosting companies according to WordPress. They power over 1.5 million WordPress Websites worldwide!
They offer:
97-day money back guarantee (best out there!)

Automatic WordPres install for your website

Automatic WordPress Updates
Hosting for under 8$ per month

Servers use Solid State Disks (SSD), making them one of the fastest out there
DreamHost is the number 3 in the list of best WordPress hosting companies according to WordPress.
They offer:
Free Site Transfer

One-click WordPres install for your website

Automatic WordPress Updates
Hosting for under $4 per month

3 levels of caching for an ultra-fast site
Register Your Hosting Within Minutes
Since BlueHost is probably the provider I would recommend to most people (best for building new WordPress websites), I have included instructions of registering for them below. If you need any help registering with any of the other companies you can contact me here!
Go to Bluehost.com
Click on Get started now

3. Select your plan. I recommend just going with the basic plan, unless you expect huge traffic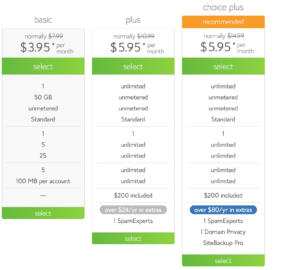 4. Fill out the domain name you wish to register. Remember, if you include it with hosting it is free using BlueHost!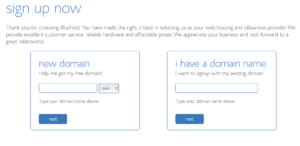 5. Fill out your details, or if you have a Google Account you can use your account to get all the information filled out for you.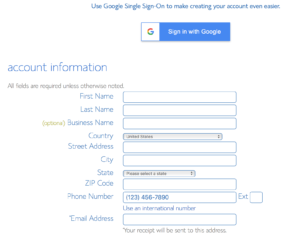 5. Choose the account plan. If you plan on having your website for a while, it may be worth paying for 3 years as you will get a good discount.
If you get a .com domain I highly recommend getting the domain privacy for $0,99 / month. This will prevent advertisers from seeing your personal information and will prevent you from getting spammed. The other options are - in my opinion - not worth your money at the start. If you attract a lot of traffic and make a lot of money through website sales, you may consider 'Codeguard Basic', but for now, I would save that money!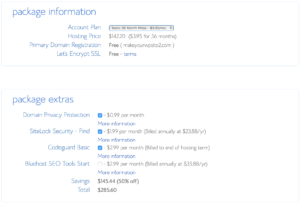 6. Select your payment method (you can find PayPal under more payment options and you are done!

Congratulations! You just registered your domain and hosting! Let's get started on that website!
So we have just registered our domain and gotten our hosting! Now it's time to setup our BlueHost account and log into our WordPress site.
Step 1: After completing the signup process you will be taken to the next page where we can insert our password for BlueHost. Please note that this will NOT be your WordPress password, we will set this up later!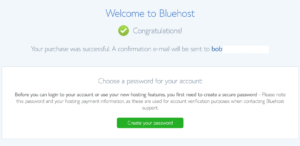 Step 2: On the next page we will be able to enter our BlueHost password. Make sure it contains at least 1 special character, 1 capital letter and 1 number. Also make sure to check the box agreeing to the terms and click on next.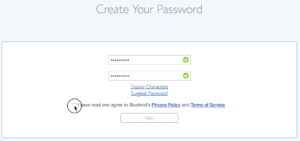 Step 3: On the next page we are shown a few themes we can choose from. If you see a theme you like feel free to select it and give it a try. Remember: we can change themes at any time without losing any of our pages. In the next part of the guide I will walk you through picking themes and give a few examples of themes I have used in the past.
If you don't see any themes you like, just scroll down and skip this step for now.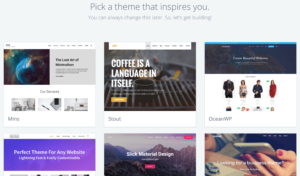 Step 4: We will be taken to the next page where we can actually log into our new WordPress site. As you can see in the bar on top, BlueHost gives you a temporary domain so we can start building straight away! So let's click on Start building and move to WordPress.

Step 5: Welcome to WordPress! As you can see, WordPress offers help setting up your site. Since you are following this Step-By-Step guide we can just click on 'I don't need help' for now, as we will cover every single part you need to know.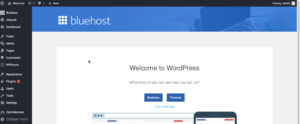 Step 6: We are now ready to start building our site. As you can see on this screen our website is now displaying a 'coming soon' page, which we will keep for now. As soon as we are happy to show our website to the world, we will press on launch.

For now: let's go to Part 2 where we prepare our WordPress site to be as fast, save and userfriendly as possible!
I made a detailed Free Step-By-Step video guide to help you through the entire proces!