WordPress comes with thousands and thousands themes we can choose from. We can distinguish 3 types of themes:
Free (completely free to use, you get all features)
Fremium (free to use, but with Premium features you can unlock by paying)
Paid (Either a 1-time or subscription fee).
For this guide we will look into the free and fremium themes - some fremium themes actually offer create 'free' versions. I will soon be writing some articles on some paid themes on the website - which I will link here as soon as they are done (for those of you wondering, I use a paid theme for shit website called OptimizePress which is for a bit more advanced WordPress users),
The cool thing about WordPress is that you can switch your theme at any moment just to try how your site would look. You won't lose any of your pages or posts and can always switch back and have the exact site you had before!
But back to the free themes. Let's first find out how we can add and search themes.
Step 1: In our dashboard hover over 'appearance'  and then go to 'themes' in the submenu. As you can see on this page there are 3 themes already installed by WordPress. If you like one of these three you can use them of course, but for now let's click on 'Add New Theme'

On this page we see we can go to 'Featured' 'Popular' or 'Latest', but we can also search through the thousands on themes. Let's say we are making a website about food (whether it is for a blog or for our restaurant): let's type in 'food' in the search bar and see what pops up.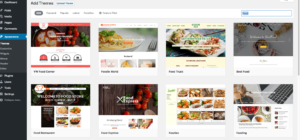 As you can see there are quite a few (230) themes related to food. What I suggest is for you to search some keywords in the niche your site will be about to see if there are any nice looking themes. The popular and featured themes also have quite a few nice themes you could choose.
Step 2: Once we have found a theme we like we can see a preview by hovering over the theme and clicking on 'preview'

If we like the preview simply click on 'Install'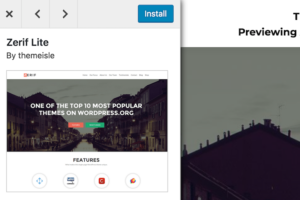 And once the installing is done, click on 'Activate'.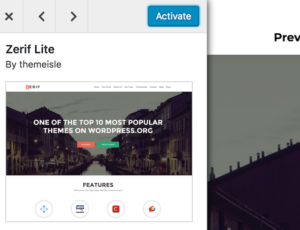 We are now finished installing our theme and can see the result by moving our mouse to the top of the page where you see the title of your site, and then click on 'Visit Site'

Now we can see our website how it would look if you use a 'blog' style. This page will always show the latest posts on top.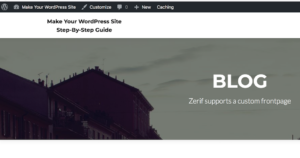 In the next part I will talk about posts, but also about how we can change to what's called a 'static front page' and styling our website to make it our own beautiful website!