So WordPress has Pages and Posts. In short: Pages are your actual different sections on your website - such as about us and contact us - while posts are blog  or news posts.
Most sites will have a combination of pages and posts, just like this one. This website has a lot of pages (domain, hosting, this guide, etc.) and a few posts (the blog-section). A more traditional blog site will mainly be using posts and just have a few pages to give some general information.
The first important step when it comes to pages, is getting rid of the 'Sample page' WordPress kindly makes for us during the WordPress Setup.
Step 1. Click on pages in our side bar and we will see a page called 'Sample page'. Hover over this name with your mouse and you will see a few options appear. Click on 'trash'.

Step 2. Once we have deleted a page it moves to our trash. A good habit to get is to make sure we permanently delete all pages and posts if we are sure we are never going to use them. This will prevent our site to be full with pages we don't use and will ensure the site to stay super fast.
To do so, click on trash (just above where it says 'bulk actions'), and on this page hover your mouse over the 'sample page' again and click on delete permanently.

Step 3: After deleting the Sample page it is time to create our first page.  Click on 'Add new' on the top of the page your are currently seeing.

Give the page a title (for example: Home) and click on 'Publish'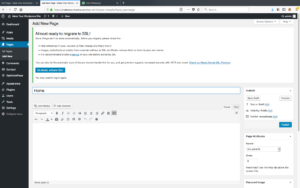 We are now done with setting up our pages for now. Remember, you can always come back and create more pages here (like about us, contact us, etc.). Now it's time to choose our theme.